CRM
How to Use Rybbon and HubSpot to Differentiate Your Marketing
Do you want to learn how to use Rybbon and HubSpot to differentiate your marketing and keep your customers coming back? Click here to find out how.
---
Have you found your business struggling to find new customers because social distancing is keeping you apart?
Now, you can't simply grab a cup of coffee with a potential client to get the conversation going. Instead, business owners are forced to get creative and find new ways to treat and reward their customers online.
Virtual events, webinars, and Zoom meetings are becoming the "new normal" — but businesses still aren't delivering exceptional experiences for their customers. They still aren't delivering that extra "wow" factor that you need if you want to stand out.
We wanted to help our customers be exceptional. That's why we're the first HubSpot Agency Partner in Spain to partner with Rybbon.
When you integrate Rybbon with HubSpot, you'll gain the ability to send them their choice of a gift card from a pre-selected list of options that you get to pick. This simple tool unlocks so much potential.
We know how to help you set up and take advantage of HubSpot and Rybbon's services to power your marketing and sales. So, keep reading to learn how we can help you use Rybbon and HubSpot to differentiate your sales efforts and generate more revenue.
How Rybbon Integrates With HubSpot
If you already have a HubSpot account, integrating Rybbon is easy.
Create an account with Rybbon by navigating to their website and following the prompts, or contact Vende Más to set up your account if you are not in the USA or Canada.
Connect Rybbon to HubSpot by clicking on "Connect to HubSpot" and entering your Hub ID.
Select the gift you want to send to your recipient or let them choose their preferred gift from your curated list.
Customize the page your recipient will see, so it matches your company's branding.
Confirm and complete your purchase.
Once you've completed your purchase and the workflow gets triggered, your recipient will receive an email with instructions on how to choose and claim their free gift. To see this process in action, watch this video from HubSpot.
How to Use Rybbon to Be Exceptional
Suppose you're looking for the perfect digital marketing incentives to boost webinar attendance, increase referrals, or get more people to complete your surveys. In that case, Rybbon is the perfect fit for you.
With Rybbon, digitals marketers experienced:
According to the CEO of Rybbon, Jignesh Shah, "With Rybbon, you can cost-effectively incentivize prospects and customers while promoting positive brand recognition."
Here's an example of the HubSpot integration with Rybbon, a workflow that's set up to send gifts to people who attend the company's webinar: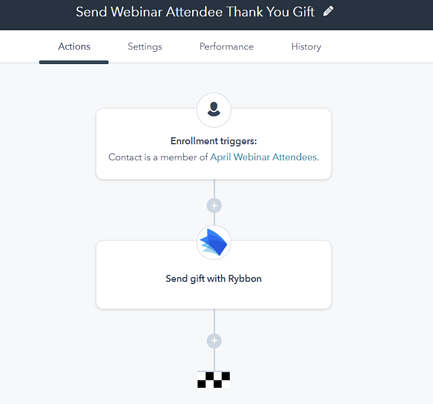 10 Ways To Use Rybbon
Rewarding webinar attendees
Rewarding your customers for recommending you
As a "thank you" for completing surveys
Rewarding repeat customers or survey takers by allowing them to earn points they can use to purchase gift cards with
Encouraging participation in demos
Organizing "lunch and learns"
End of the year or holiday gifts
As a "thank you" to your employees for their hard work
Marketing Campaigns — especially account-based marketing
Boosting sales by revitalizing lost business and incentivizing meetings
Marketing Case Studies
Here's what some of Rybbon's customers had to say about their experience using the service:
"Rybbon helps us deliver gift cards to our clients all over the world when we want to thank them for referring a friend or helping us with market research. Rybbon's service is so convenient and easy to use. They have thought of everything. It literally takes seconds to send a thank-you to clients anywhere in the world in a currency that works for them. This is an excellent service that saves us so much time and stress. We are getting very good value for money." - Rachel P.
"We use Rybbon to automate our gift card program. Users who complete our training module get placed into a Hubspot workflow and at the end of the workflow they get dumped into a Rybbon gift card distribution trigger. I then use the Rybbon portal to set up campaigns and approve/disapprove entries." - Project Manager in Biotechnology
"Rybbon has provided an efficient means for us to deliver awards. We use Rybbon to send gift cards for our customer referral, customer review, and webinar rewards." - G2 User in Computer Software
Receive a 100% Refund For Unclaimed Gifts
You'd be surprised how often people file virtual gift cards away and never use them. In fact, Rybbon reports that 5-20% of gifts sent by their customers go unclaimed.
Instead of leaving you footing the bill for all those unused gift cards, Rybbon automatically sends you a refund for the full amount so you can put that money back into your marketing budget for future use.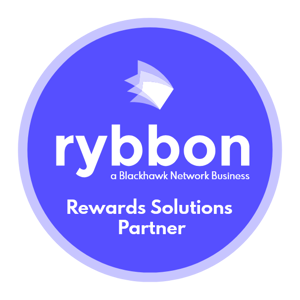 Get Help Using HubSpot and Rybbon Now
As simple as getting started with HubSpot and Rybbon may seem, unless you're an entrepreneur with extra time on your hands, you probably don't have the mental calories to devote to the learning curve it'll take — no matter how small.
That's where our team at Vende Más comes in. As Rybbon and HubSpot partners, we're uniquely qualified to help you set up the technical side of the process, as well as coaching you on how to get the most out of both services.
Don't take our word for it, though. Here's what one of our clients had to say about working with us:
"We worked with Vende Más to reposition our brand and they provided us with a systematic and very professional methodology where the results are tangible and measurable. One of the most important things is that they work with a method that can be repeated and scaled, which was just what we needed to organize our Digital Sales channel. We are very grateful for the results that we have obtained and it's also a pleasure to have a strategic partner who has such human warmth and professionalism." — Nestor Gasso, Lempert S.A.
Are you ready to get started with HubSpot and Rybbon? Click here to book a meeting with a member of our team.